How many UNESCO sites are there in Tuscany? Did you know that there are 8 UNESCO World Heritage Sites in Tuscany? Where are UNESCO World Heritage Sites in Tuscany?
Ah, Tuscany! With its picturesque rolling hills, stunning sunsets, and bustling cities – complete with steaming espressos, mouthwatering pasta dishes, and captivating works of art.
Who wouldn't want to explore this vast region of Italy? But how do you make the most of your time in Tuscany? Perhaps by planning and exploring the 8 Unesco World Heritage Sites in Tuscany or just being aware of them as you're planning your Tuscany Itinerary.
After a few trips to Tuscany, we realized that we'd visited 6 out of 8 of the UNESCO World Heritage Sites in Tuscany. That's pretty amazing! If we had been keeping a count, maybe we would have made an effort to check the last two off this last during our recent 3 Days in Tuscany exploring Val d'Orcia and the Tuscan countryside.
How many UNESCO World Heritage Sites are in Italy?
The country of Italy has a total of 58 UNESCO World Heritage sites.
How many UNESCO sites are there in Tuscany?
The Tuscany region of Italy boasts 8 UNESCO World Heritage Sites! That's impressive.
Disclosure: This post may contain affiliate links. If you decide to make a purchase from one of those links, we may get a commission at no extra cost to you. We appreciate your support.
Tuscany is one of our favorite regions in Italy. We love it for its food, wine, stunning beauty, and history. We've visited cities like Florence, Pienza, Pisa, Lucca, San Gimignano, and Siena. No matter how often you visit, there's something new to discover. You need months, if not a year, to explore Tuscany properly.
As visitors who are short on time, it's nice to visit the highlights, and the 8 UNESCO World Heritage Sites in Tuscany are worth adding to your bucket list.
This article will share the list of the 8 UNESCO World Heritage Sites in Tuscany and what makes them special and worth visiting.
What is a UNESCO World Heritage Site?
UNESCO stands for United Nations Educational, Scientific and Cultural Organization. It is an organization that promotes international peace and security by protecting cultural and natural heritage worldwide. These sites are essential to the collective interests of humanity and are recognized as a part of our global heritage.
Over 1,000 UNESCO World Heritage Sites are located in more than 160 countries worldwide.
8 UNESCO World Heritage Sites in Tuscany
Here is a handy Google Maps of the 8 Unesco World Heritage in Tuscany, including we put together that we hope helps assist you with your tasty itinerary.
Where are UNESCO World Heritage Sites in Tuscany?
• Florence
• Pisa
• San Gimignano
• Pienza
• Val d'Orcia
• Siena
• Montecatini Terme
• Medici Villas (12) and (2) Gardens (spread throughout the province of Florence)
1. The Heart of Florence (Historic City Center)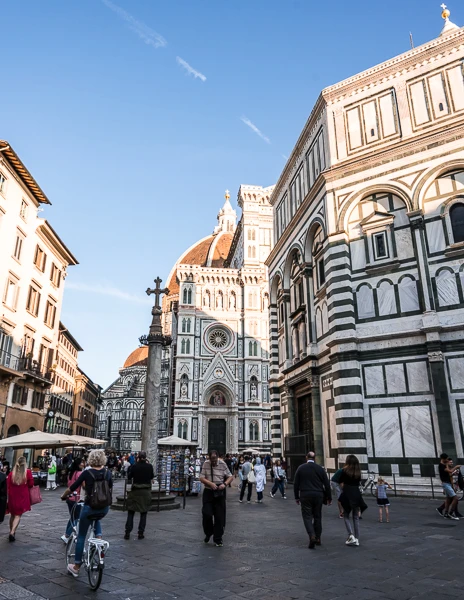 The heart of Florence has stolen a piece of our hearts repeatedly, and it's not surprising that it is on this list of UNESCO World Heritage Sites in Tuscany.
The Historic City Center of Florence is a true tribute to the city's long and storied past. It was declared a UNESCO World Heritage Site in 1982. The Historic City Center of Florence is a beloved reminder of the city's grand past.
The city center is a living museum brimming with timeless renaissance art and architecture. One of the many incredible sights here is the Duomo, Cathedral of Santa Maria del Fiore, an architectural masterpiece in Piazza del Duomo that will captivate you upon first sight.
Florence is home to the Medici family, and the city center is filled with remnants of their wealth and influence. Because of them, the city is filled with an impressive assortment of works of art and architecture.
Much of the art can be viewed at the Uffizi Museum, the oldest museum in the world. The Uffizi Gallery houses the best of Renaissance artwork and sculptures, including works from Botticelli, Michelangelo, and da Vinci.
In Florence, you can also see the David statue by Michelangelo, the Ponte Vecchio, the Boboli Gardens, the Santa Croce Church, and the Basilica of Santa Maria Novella.
You can spend as little as a day in Florence to taste what this wonderful city offers, but we recommend at least a few days. It's impossible to do everything Florence offers in a short amount of time.
But the city is compact, walkable, filled with delicious eats, and offers a beautiful backdrop for any traveler. It's also easy to access a central train station where you can plan day trips from Florence.
It's also where gelato was invented. What more can we say?
If you can fit in a food tour, book it. Florence is one of the top places we've done a food tour.
Tip: Be sure to book tickets in advance if you plan to visit sites like the Uffizi Gallery, the Galleria dell'Accademia, Palazzo Vecchio, and any other popular attractions in Florence. These spots can get crowded fast as lines can be very long.
Tour Ideas:
Fascinating Florence: Guided Walking Tour [book here]
The History of Florence: The Renaissance Tour [book here]
2. The Landscape of Val d'Orcia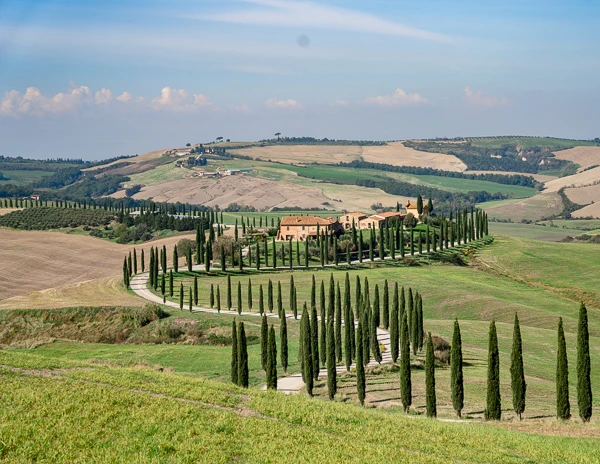 Val d'Orcia is one of the most captivating and beautiful parts of Tuscany. It's UNESCO-listed for its breathtaking landscape and resources that have been carefully managed since the Renaissance.
Val d'Orcia is located in the southeastern portion of Tuscany, Italy. It's considered to be one of the most photographed places on Earth. It's one destination you'll visit, and you wonder if you've been transported into a painting.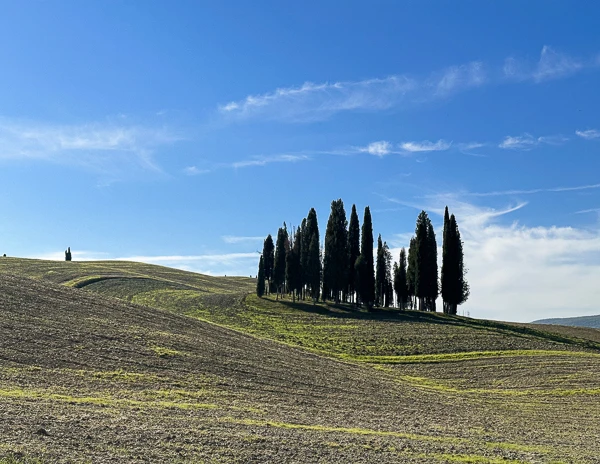 The landscape is home to rolling hills filled with cypress trees, postcard-perfect hilltop villages that look straight out of a fairy tale, farms, vineyards, and olive groves. Protected since the 14th century, Val d'Orcia is one of the best-preserved landscapes in Italy.
Val d'Orcia is an ideal destination in Italy for a leisurely trip. You can pack a picnic, rent a bike, or drive around the countryside.
We recommend you rent a car and spend time discovering the beauty of this region. Visit villages like Montalcino, Pienza, and San Quirico d'Orcia.
Stop to see postcard spots like Chiesa di Vitaleta, the Tuscan tower of Radicofani, and the hot spring pools of Bagno Vignoni.
Drive the Crete Senesi loop, a region of rolling hills shaped by erosion, and visit the small villages along the way.
Stay for at least two days to explore and savor the peace and beauty of Val d'Orcia. This is one of those destinations that will take your breath away. It's like visiting a living painting.
Tour Ideas:
Private Tour of Val d'Orcia from Florence [book here]
Bike Ride Immersion Val d'Orcia [book here]
3. Historic Center of Pienza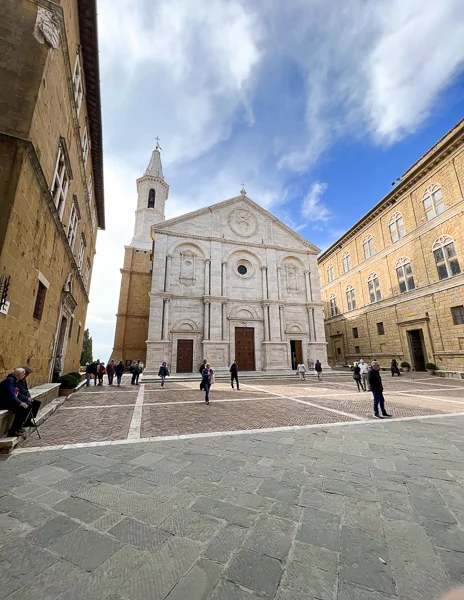 The historic center of Pienza is also located in southern Tuscany, and in 1966 was declared a UNESCO World Heritage Site in Tuscany. It's one of the most popular destinations in Tuscany, and you'll understand why when you visit.
Pienza was once an ancient medieval village called Corsignano. But in 1459, the pope of the time decided to transform it into his ideal city and renamed it Pienza ("City of the Pius" in Italian).
What makes Pienza, so special today is that the entire city center still looks like it did in Renaissance times. You can walk around the main square Piazza Pio II and admire the beautiful architecture, including Palazzo Piccolomini, the Duomo di Pienza Cathedral and its bell tower, and Palazzo Borgia.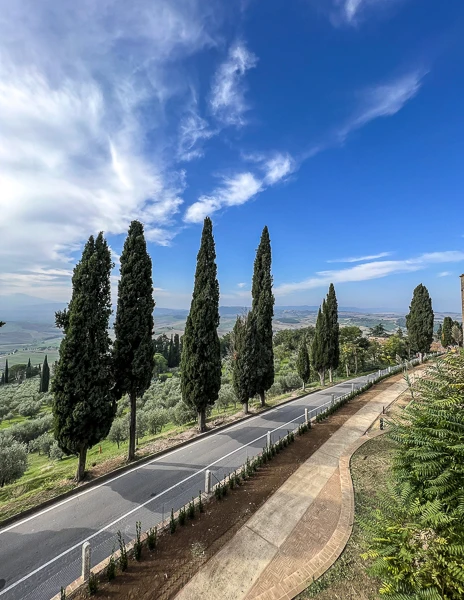 Pienza also overlooks Val d'Orcia, giving us stunning views from its spot atop a hill.
When you visit, don't be afraid to wander off the main drag and explore the charming narrow streets of Pienza. Make sure you also visit the local shops and art galleries that line the streets. And don't forget to sample pecorino cheese, a local specialty.
Tip: Pienza is a great destination to stay in for more than one night while you explore Val d'Orcia and the surrounding area. You can stay in the city center or the countryside.

Either way, you'll have to rent a car or hire a driver and-or tour guide to explore as it's the easiest way to get around.
4. Siena's Historic City Center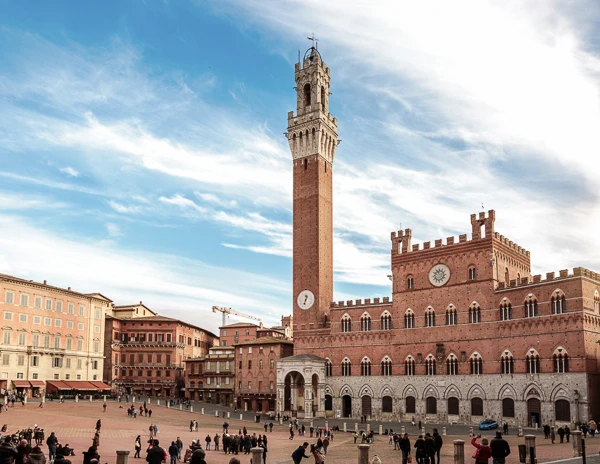 In the center of Tuscany lies Siena, a centuries-old city declared a UNESCO World Heritage Site in 1995. Its medieval center is a delight to explore and wander through, with its charming streets, captivating architecture, and vivid history.
Siena is known for its art, Gothic architecture, beautiful cathedrals, Piazzas, and the Palio di Siena: a traditional horse race.
Experience the charm and grandeur of Siena's Piazza del Campo  – the heart of this UNESCO World Heritage Site. Admire its centuries-old buildings that create an enchanting atmosphere full of rich history and grandiose architecture.
Visit Palazzo Pubblico, climb Torre del Mangia, admire Fonte Gaia, and then go to Siena Cathedral to admire its beautiful mosaics.
The Palio di Siena is a special part of Siena's history. It takes place twice a year, in July and August. It's an age-old traditional horse race in Piazza del Campo. This race is important to locals and spectators alike and a unique experience.
Tip: Siena is a city with a central train station that can easily connect you to other parts of Italy with train access. It's also a great home base if you want to stay in a larger city while exploring surrounding areas.
Tour Ideas:
Walking Tour of Siena with Food & Wine [book here]
Vespa Tour, Including Lunch at a Chianti Winery from Siena [book here]
Vintage Fiat 500 Tour from Siena: Tuscan Hills and Winery Lunch [book here]
5. San Gimigiano's Historic Center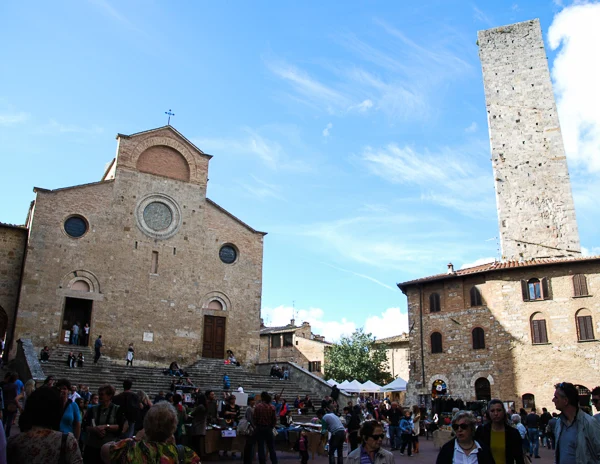 San Gimignano is a small, walled city located in the hills of Tuscany and declared a UNESCO World Heritage Site in 1990. This charming Tuscan city is known for its medieval architecture and towers, which make it a beautiful backdrop to explore.
The towers in San Gimignano are the defining feature of this historic town and why it's affectionately called "The City of Towers." Most of these towers date back to the 13th century when families built them to symbolize their wealth and power.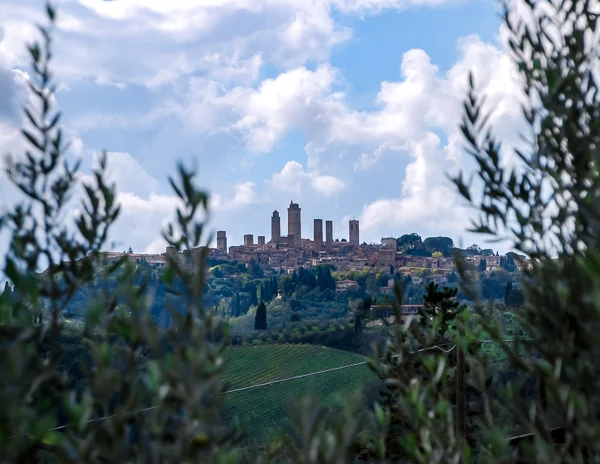 Today, 14 towers still stand in San Gimignano and can be seen from miles away. In the 13th century, there were supposedly over 70 towers in the city.
When you visit, explore the cobblestone streets and admire the local architecture. Stroll around Piazza Della Cisterna, visit one of the 8 museums (including a museum of torture), and admire the frescoes in Sant'Agostino.
Stop by Gelateria Dondoli to try their infamous gelato and the local Vernaccia di San Gimignano wine at a wine bar.
Tip: San Gimignano is a great day trip from Siena, but it's only accessible by car.
Tour Ideas:
San Gimignano, Chianti, and Montalcino Day Trip from Siena [book here]
San Gimignano: Original & Fun Wine Tour in Chianti by TukTuk [book here]
6. Piazza del Duomo | Piazza dei Miracoli, Pisa
This UNESCO World Heritage Site in Tuscany is located in Piazza del Duomo, now known as Piazza dei Miracoli, a stunning square surrounded by historic structures: The Leaning Tower of Pisa, the Baptistery, and the Cathedral.
The iconic Leaning Tower of Pisa is amongst the most famous attractions in Tuscany and the entire world. It's one of the most visited sites in Italy, with around 5 million people visiting it each year.
This stunning structure dates back to 1173 and has been leaning since the third story was built due to its soft ground. You can enter the tower and climb its 251 steps.
The Baptistery and Cathedral in Piazza del Duomo are also part of the UNESCO World Heritage Site. The Baptistery, dedicated to St. John the Baptist, dates back to 1152 and is an octagonal structure with a magnificent dome and intricate design and decoration.
The Cathedral, dedicated to St. Mary of the Assumption, is a Romanesque structure with Gothic elements. You'll find beautiful mosaics, marble sculptures, and an elaborate pulpit.
Most people plan a day trip to Pisa to see the leaning tower and check it off their bucket list. This is worth the trip if you've never been there.
Tip: Pisa is easily accessible by train or bus from other cities in Tuscany.
Tour Ideas:
Private Pisa Discovery Walking Tour with Leaning Tower Access [book here]
Small Group Golf Cart Tour in Pisa [book here]
7. Medici Villas and Gardens
The Medici family was an influential banking dynasty in Italy that ruled the Florentine Republic for several centuries. During their reign, they created a legacy through art and architecture and left behind many villas and gardens throughout Tuscany.
The Medici Villas and Gardens are a collection of 12 villas and 2 gardens listed in 2013 as UNESCO World Heritage Sites in Tuscany.
If you have visited the city of Florence, you probably visited the Boboli Gardens, one of the two Medici Gardens included in this UNESCO World Heritage Site. The Boboli Gardens feature a magnificent array of sculptures, fountains, and lush pathways behind the Pitti Palace.
Some of these villas are closed to the public or can be visited with reservations, and some have been turned into museums, resorts, or private residences.
8. Montecatini Terme (Part of The Great Spas Towns of Europe)
Montecatini Terme is a spa town in central Tuscany, between Lucca and Pistoia, and one of 11 of The Great Spa Towns of Europe that have been declared UNESCO World Heritage Sites in Tuscany.
Nowadays, Montecatini Terme has become a renowned destination for rest and relaxation, offering guests the chance to be pampered in one of its many spa resorts. With warm saline baths known for their healing properties, visitors can enjoy treatments that bring harmony to both body and mind.
The area around Montecatini Terme features rolling hills that add to the charm of this small but captivating town.
Montecatini Terme is a destination you plan to get away to relax and unwind. Here you can enjoy the spas, have a romantic walk in its charming streets, or admire the Tuscan countryside.
Tip: Many of Tuscany's cities are easily accessible from Montecatini Terme by train or bus; Florence is an hour's journey away by train.
Tour Idea:
Montecatini Terme Cycle & Wine Tasting Visit [book here]
Don't forget to share the love on Pinterest: