One of the highlights of our Morocco itinerary was a day trip to Essaouira – a port city in the western region of Marrakech-Safi. This relaxed and laid-back town on the coast of the Atlantic stole our hearts right from the start! Blessed with a beautiful coastline, diverse culture and exciting sights, Essaouira has something for everyone. From stunning beaches and a bustling fishing port, to a walled Medina with colorful bazaars, striking art galleries and tiny restaurants, you'll find plenty of things to do in Essaouira to keep you busy for a day.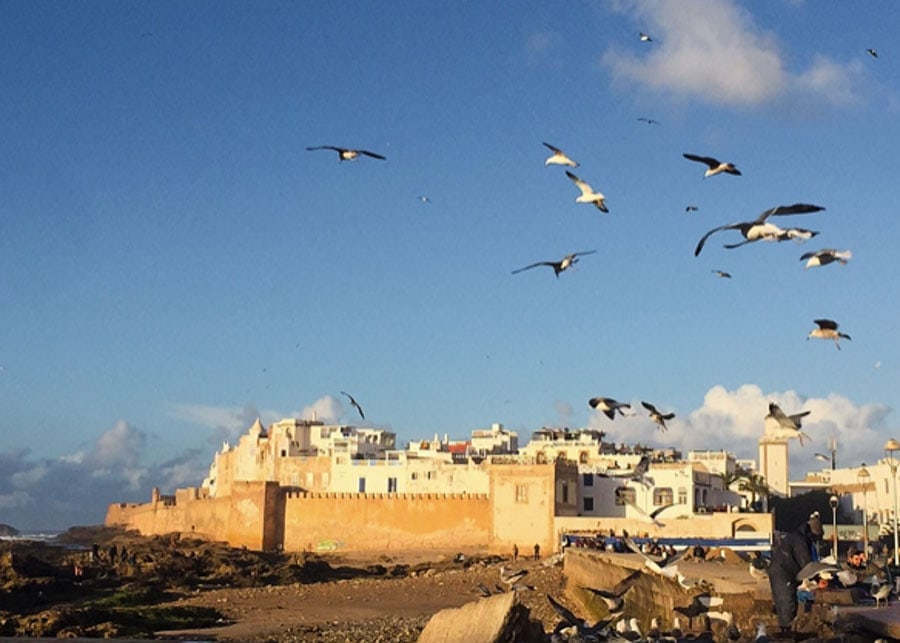 But before I tell you what to see and do in Essaouira – Morocco's Windy City – let me give you some insight into its history.
A Brief History of Essaouira
Located on the coast of the Atlantic Ocean, Essaouira (pronounced 'essa-weera') is one of Morocco's most charming towns. Its history goes back more than 2500 years. The city's initial name was Mogador, after the Muslim saint Sidi Mogdoul, a religious leader from the Middle Ages whose tomb is in Essaouira.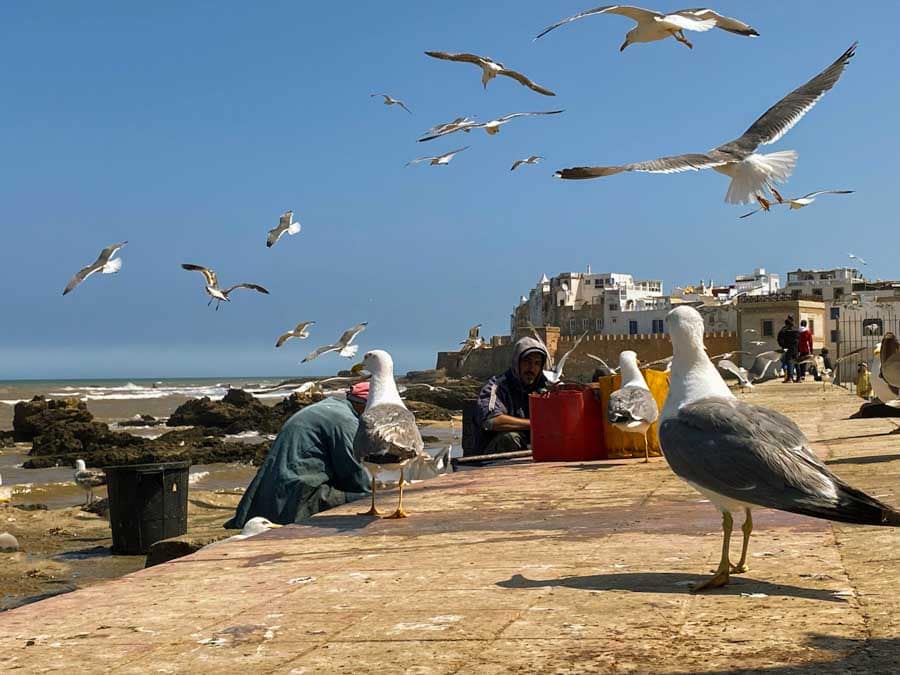 The Bay of Mogador has been a peaceful harbor on the Moroccan coast since ancient times. In the 6th century BC, the Phoenicians founded here a settlement and named it Migdal (Migdol meaning "watchtower"). But the port itself was established much later, in the 5th century BC, by Hanno the Navigator, a Carthaginian explorer.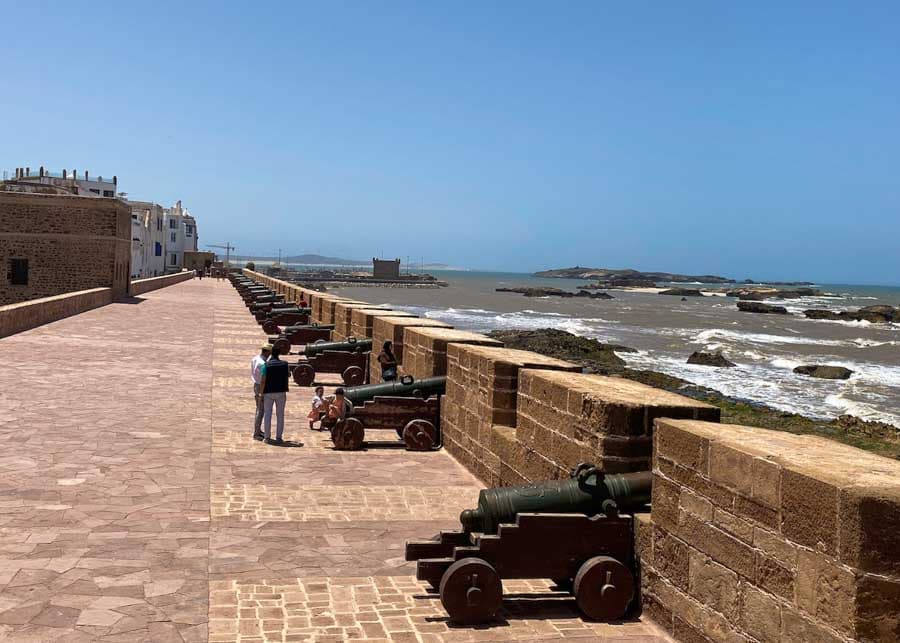 The fortifications and walls that surround Essaouira today were built by Mohammed III in 1767. The sultan wished to turn this small Atlantic town into a royal port and international commercial center. And Mogador remained the most important port of the Moroccan kingdom until the 19th century, when Casablanca and Agadir developed into better ports for modern ships. After 1956 the port of Essaouira began loosing its importance.
Today Essaouira is a Unesco World Heritage site and an exceptional example of a late-18th-century fortified town. Even though its importance as a port has decreased, the city is still an international trading seaport, linking Morocco with Europe and the rest of the world.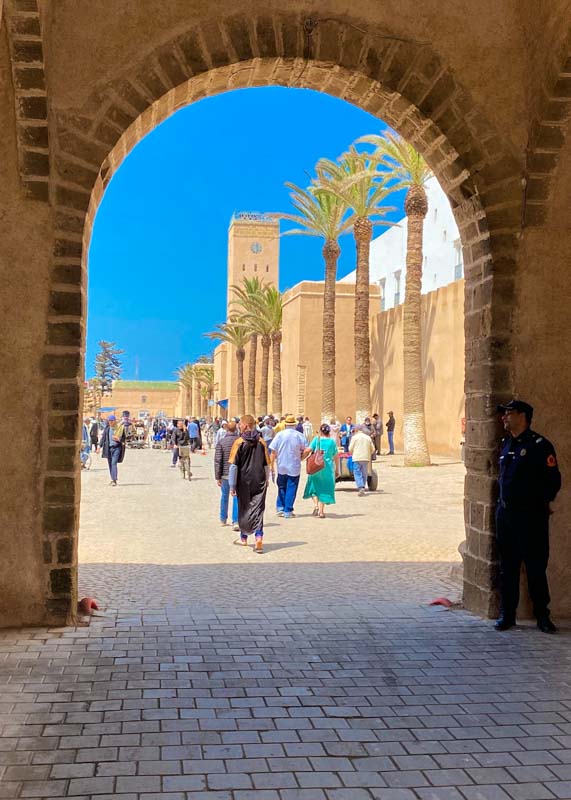 How to Get from Marrakech to Essaouira
Essaouira is very easily accessible by plane from many European airports that operate direct flights to this city seasonally. However, most people visit Essaouira as a day trip from Marrakech, which is located only 190 km (119 miles) away. You can do the trip it either by car or by bus, as there are no trains between Marrakech and Essaouira.
By Car
Traffic in Morocco seems very chaotic, especially around the big cities, which is why you won't see many tourists driving here. If you come to Essaouira by car, the most direct road from Marrakech is via R207 which takes about 2.5 hours. In Essaouira you won't be needing the car, so you can park it in big car park next to the fish market, right outside the Medina.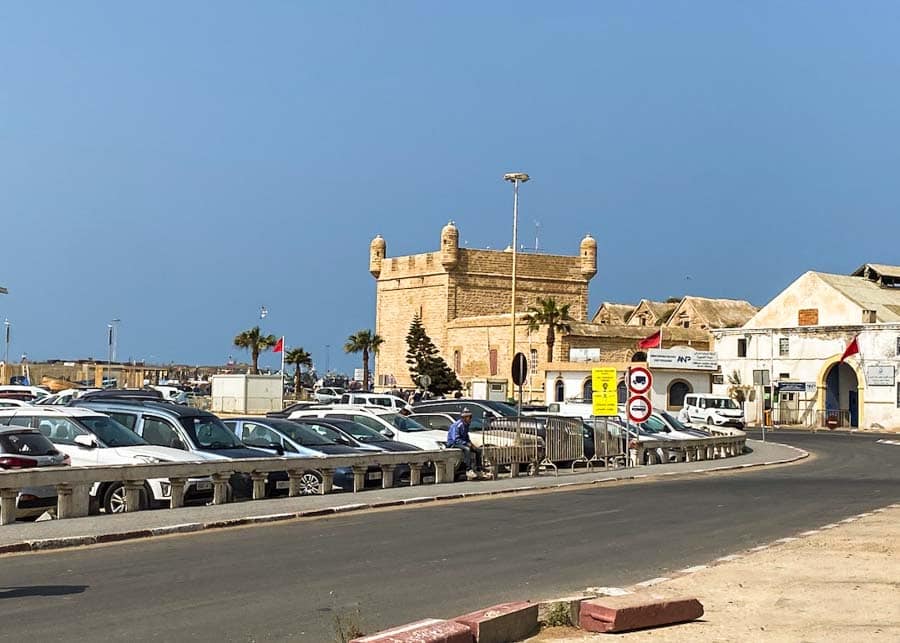 The advantage of coming by car is that you can stop at some interesting points along the way. Like search for the the mysterious tree-climbing goats that made Morocco famous in recent years.
Private Tour
If you don't want to do the driving yourself, you can book a small group day trip from Marrakech to Essaouira. Prices of course vary according to the level of comfort you choose. Another option is to rent a car with a driver. This is a great option if you like privacy and want to travel at your own pace, without the hassle of driving the car yourself. Hiring a local driver is always a good idea when you visit Morocco and it's not even as expensive as you may think.
By Bus
Bus travel is the cheapest way to get from Marrakech to Essaouira, so the vast majority of visitors use the Supratours Bus. The journey takes 3 hours, with a 20 minute comfort break enroute. There are six buses per day between the two cities and the cost is 80-100MAD/person.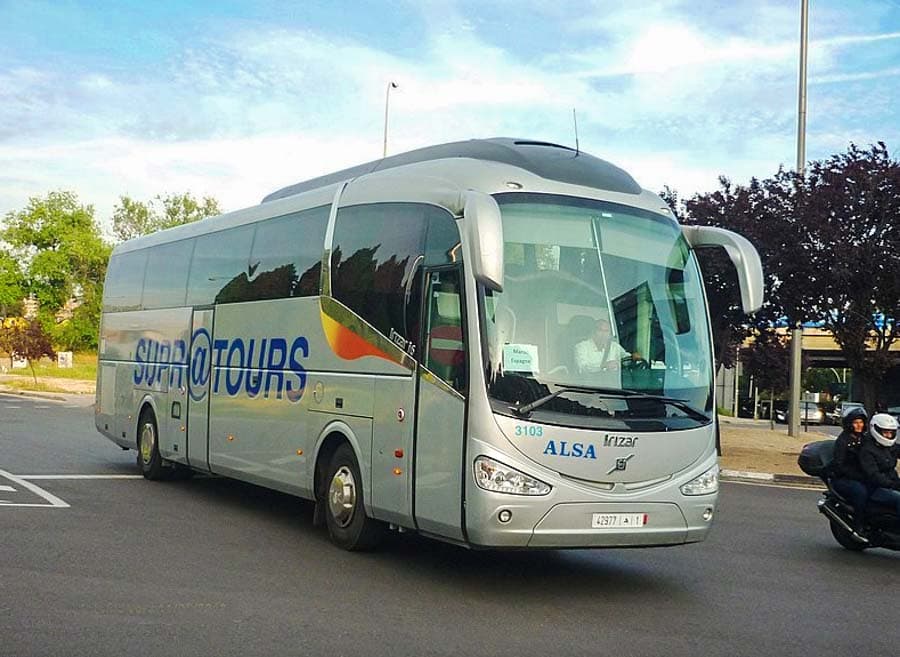 Planning a Day Trip from Marrakech to Essaouira
If you choose to visit Essaouira independently, consider allowing some extra time to stop along the way to take pictures, or visit some other small attractions in the Souss-Massa-Draa region. You'll want to arrive in Essaouira before the bus tours arrive. The driving takes roughly 3 hours and even though we left Marrakech very early in the morning, we only arrived in Essaouira around 11:30 a.m.
If you book a tour, you may be given the choice to visit the city with a local guide, before having some free time. The tour guide will take you to see the highlights of Essaouira and also gives you some insights into its history, which is very useful.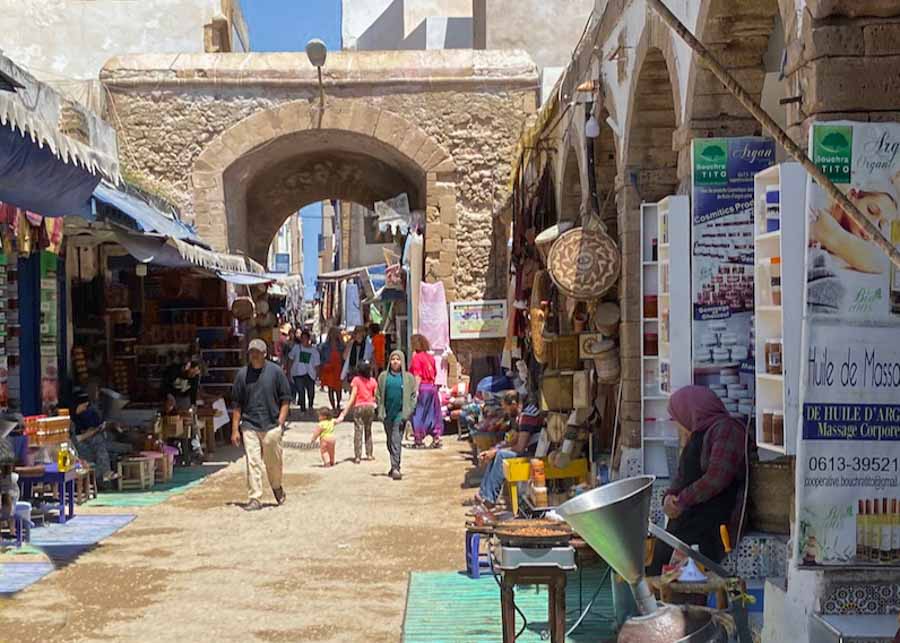 In most cases the walking tour in Essaouira is included in the price of your trip from Marrakech. However, if it's not included don't pay extra for a guided tour. Essaouira's Medina is much smaller and friendlier than the medinas of the big cities in Morocco. Definitely more fun to roam!
The 10 Best Things to Do in Essaouira on a Day Trip
In contrast to Marrakech, which is crazy and chaotic, your trip to Essaouira will seem like a relaxing break. It is calm and peaceful, with beautiful beaches, blue and white houses, and colorful stalls filled with all kinds of souvenirs. Just perfect for a lazy summer day!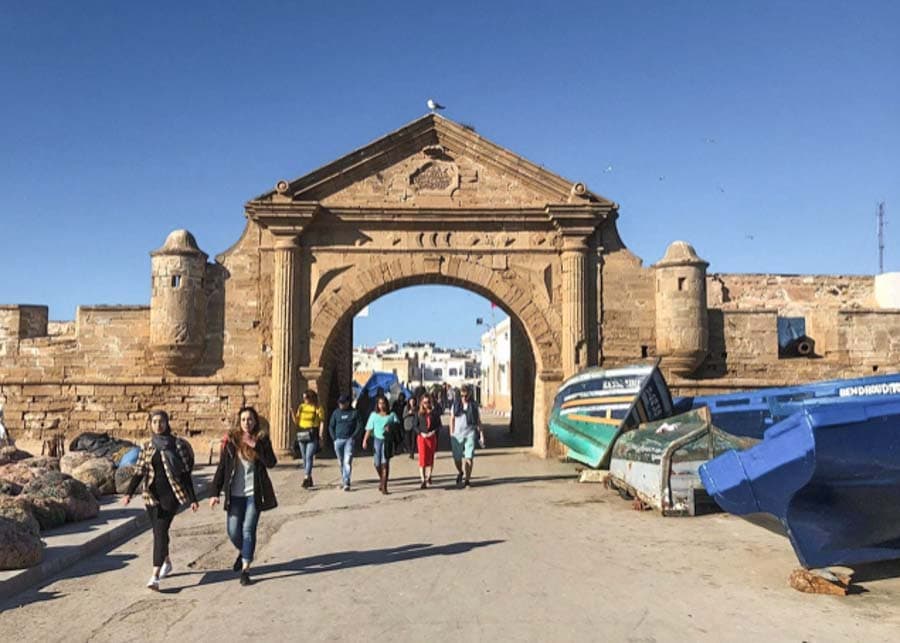 However, if you only have one day in Essaouira, my advice is to skip the beach and head straight to the port and the Medina, where all the action is!
Old Fishing Harbor
The first place that you'll come across in Essaouira is the old fishing harbor, so you can't miss it. Wandering through the harbor is like a trip back in time, when fishermen lacked the modern technology. You can see these hard working men mending their nets, building or repairing their boats, and bringing their daily catch ashore.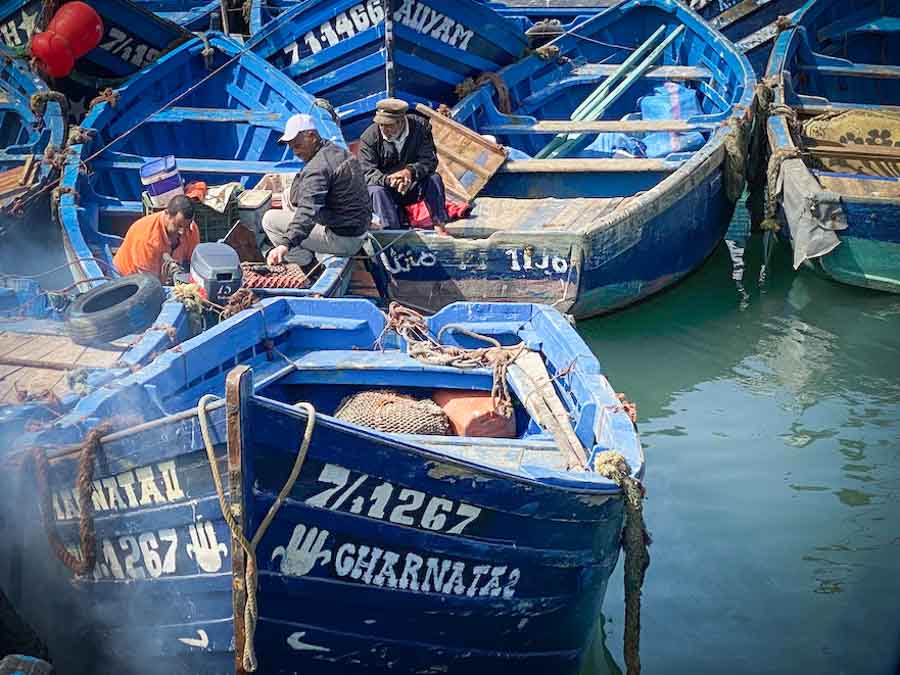 The port is incredibly picturesque, filled with small blue wooden boats, as far as the eye can see. You have endless opportunities for photography in the port – people, boats, fish and other creatures – all on the background of the ancient fortress walls.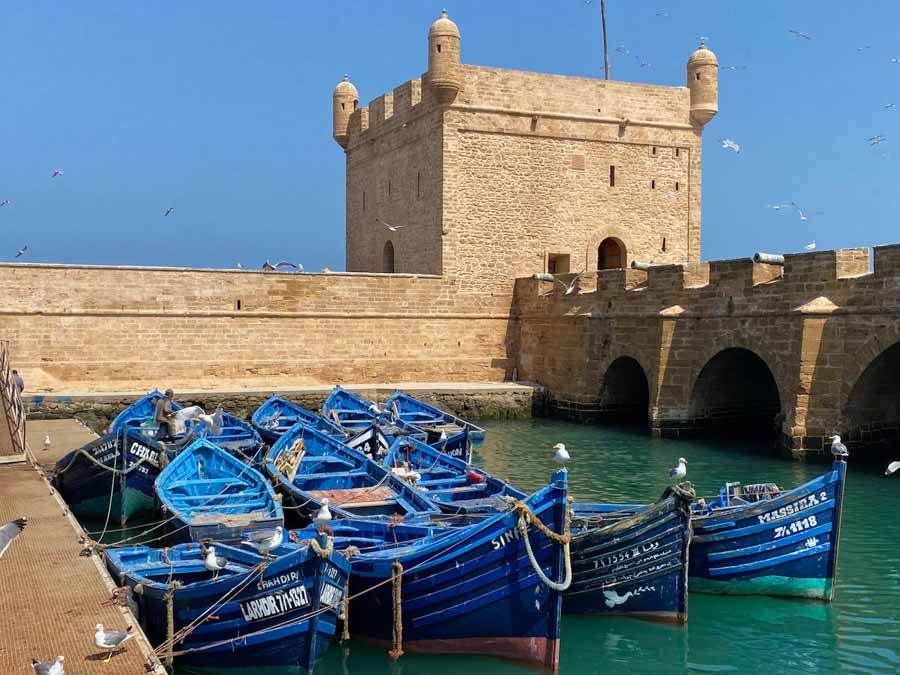 Essaouira Fish Market
Right next to the fishing harbor is one of Essaouira's most colorful (and smelly!) attractions: the fish market. Early in the morning, this place bustles with local fish lovers and buyers. Take time to browse through stands piled high everything from fish, shrimp and lobster, to eel, squid and octopus.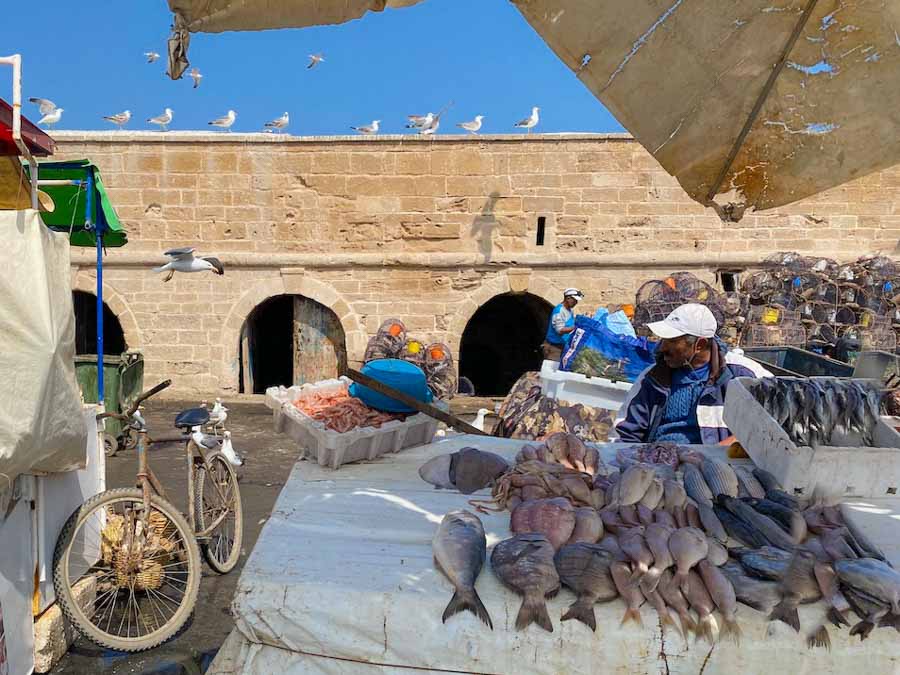 The fish market is a very animated place! Quite smelly, dirty and slippery from fish residue though, so wearing sandals or flip flops around here is not a good idea.
Skala du Port Ramparts
One of the first things that will catch your eye in Essaouira is the Skala du Port fortification, a military platform built to defend the city against invasions. The fort was also used to store weapons and ammunition.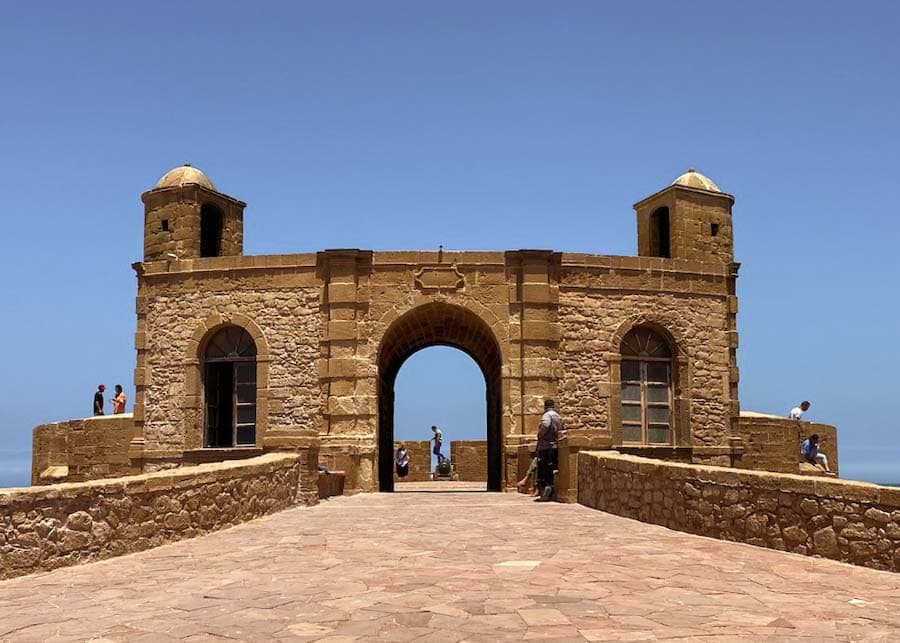 Perched on the ramparts you can still see the centuries old cannons pointing out to sea. The cannons in Essaouira were a gift of the European merchants to the Sultan Mohammed Ben Abdallah of Morocco.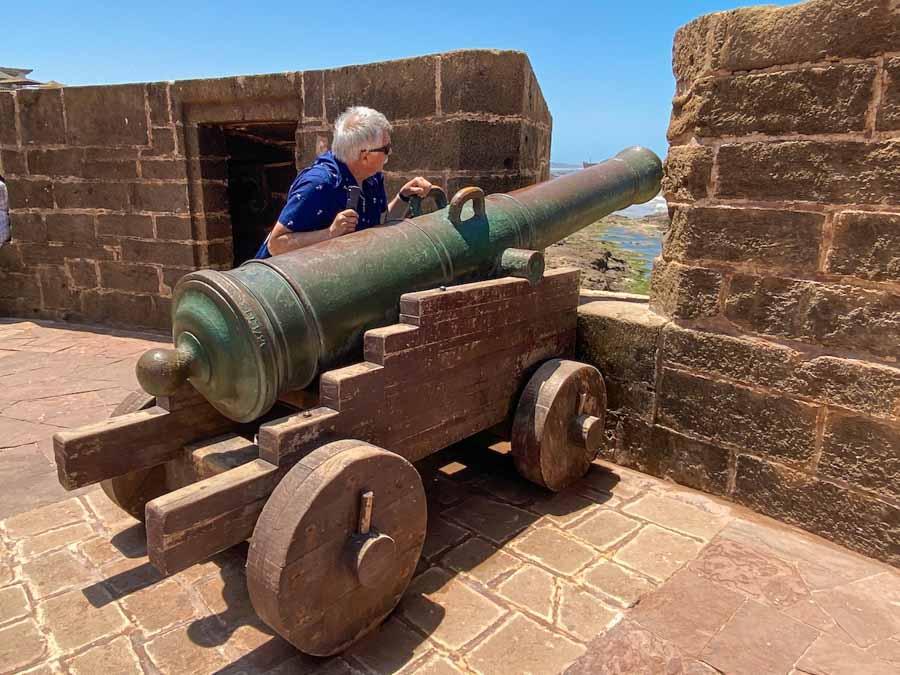 There are plenty of lookout points up on the city walls, so on a sunny day you'll enjoy great panoramic views of the Bay of Essaouira and the Medina. From a specific point, you will be able to see the island of Mogador.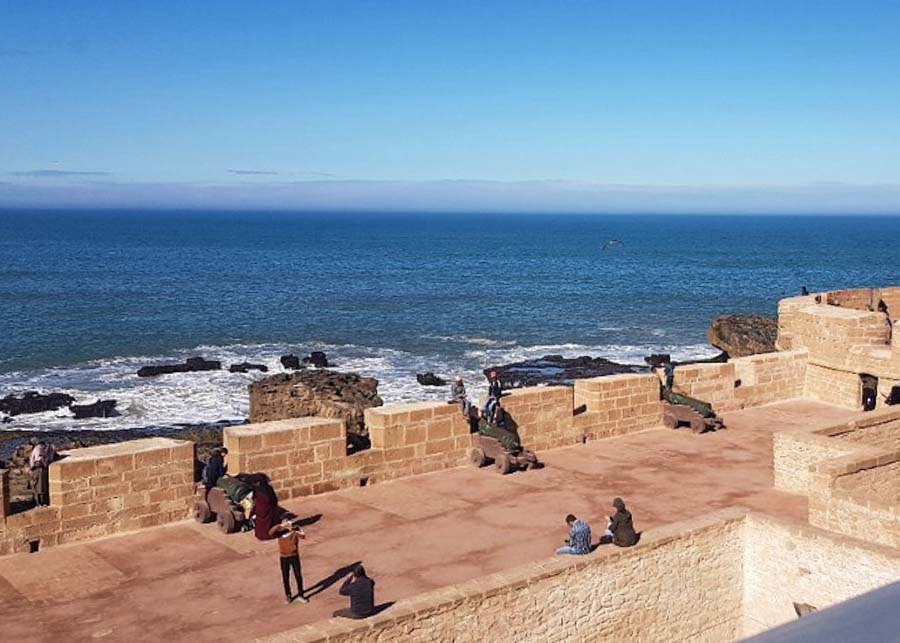 If you climb the ramparts early morning, you'll hear the sound of waves crushing into the walls. And if you don't have to return to Marrakech in the evening, you'll have the ramparts all to yourself after those who came to Essaouira for a day trip have left the city.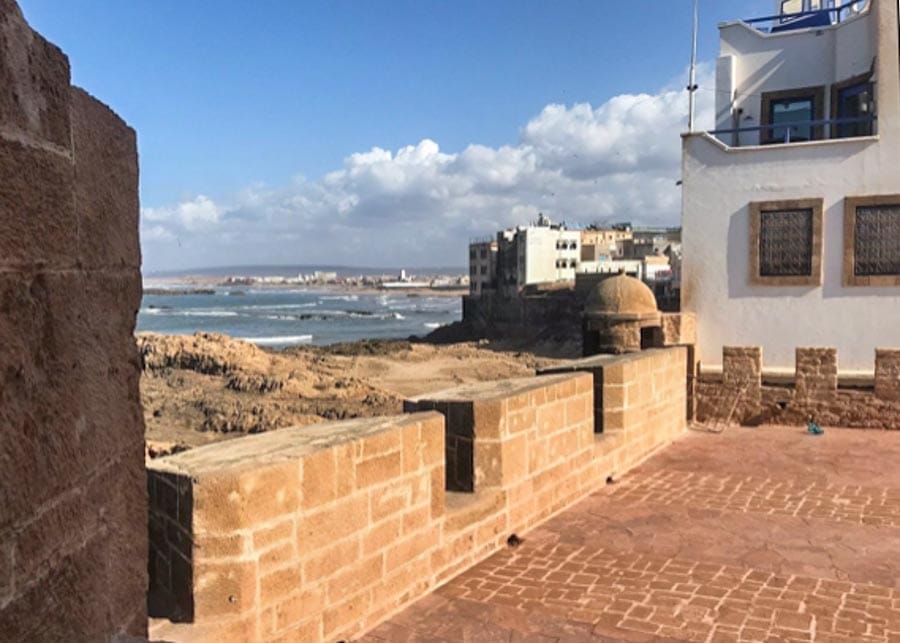 And if you are a fan of the "Game of Thrones," you will probably remember these fantastic walls as of one of Khalessi's fortresses. 
Access to the Skala costs 10 dirham/person, which is roughly €1.
Old Medina
Surrounded by the 18th-century ramparts, the old Medina of Essaouira looks like something out of a storybook. Always buzzing with activity, this is the perfect place to observe the culture of Morocco. Getting lost in the narrow labyrinth of streets with tiny shops and fragrant stalls is one of the best things to do in Essaouira.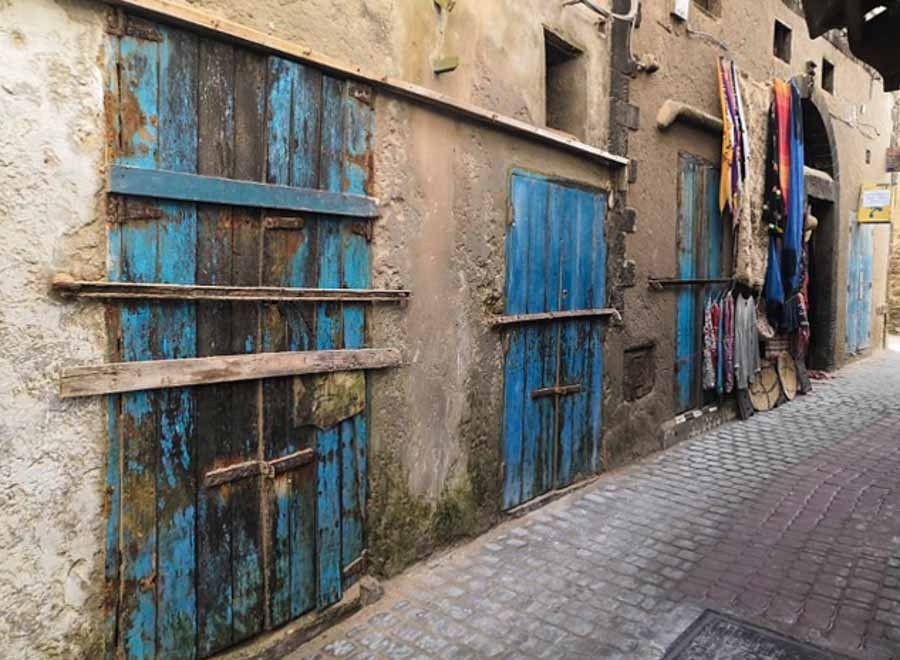 Unlike the Medina of Marrakech, where you can't take two steps without being pressured to buy something, the peaceful and relaxed atmosphere in Essaouira allows you to walk around without feeling that you must stop to shop in order to make your trip worthwhile.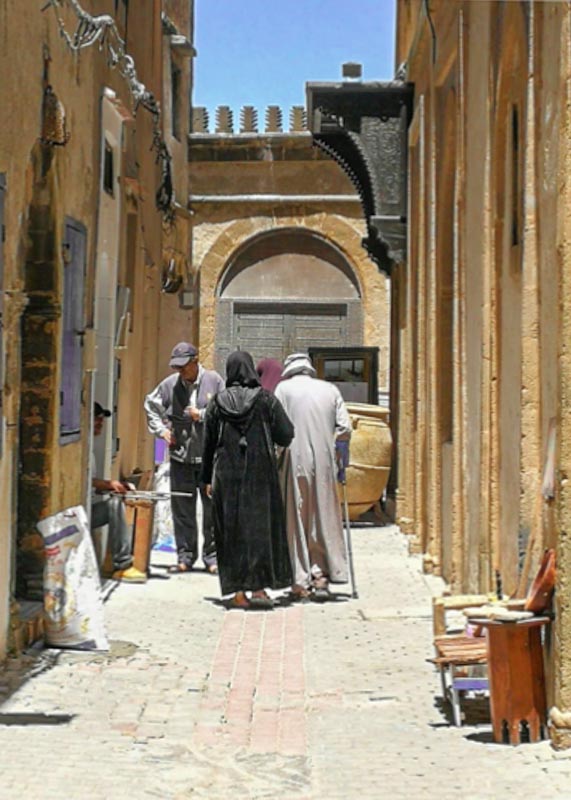 Because of its authentic atmosphere, Essaouira's Medina was used as a filming location for many movies, such as Gladiator, Lawrence of Arabia, Hanna, or Othello.
The Art Scene in Essaouira
Essaouira is known as a gathering place of art and artists. So not surprisingly, you'll find art galore everywhere you turn in this city. From beautifully painted walls and doors, to street art vendors and art shops, there is plenty of art to admire here.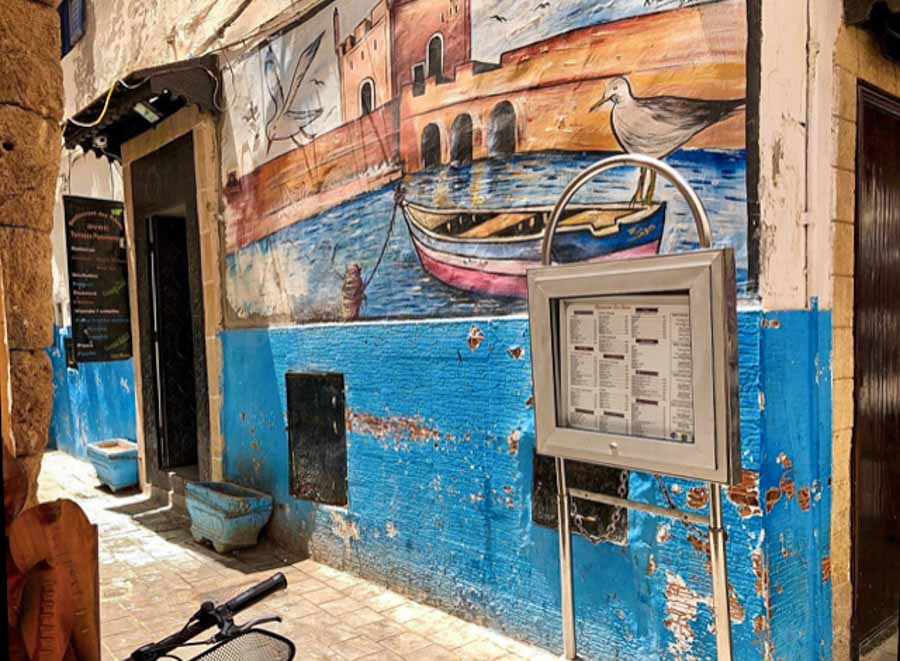 But we didn't expect to find sophisticated art galleries in this small port town on the Atlantic Ocean. Some of these galleries are housed in obscure shops, on the narrow streets of the Medina. But others are located in large halls and spacious riads with unique architectural designs.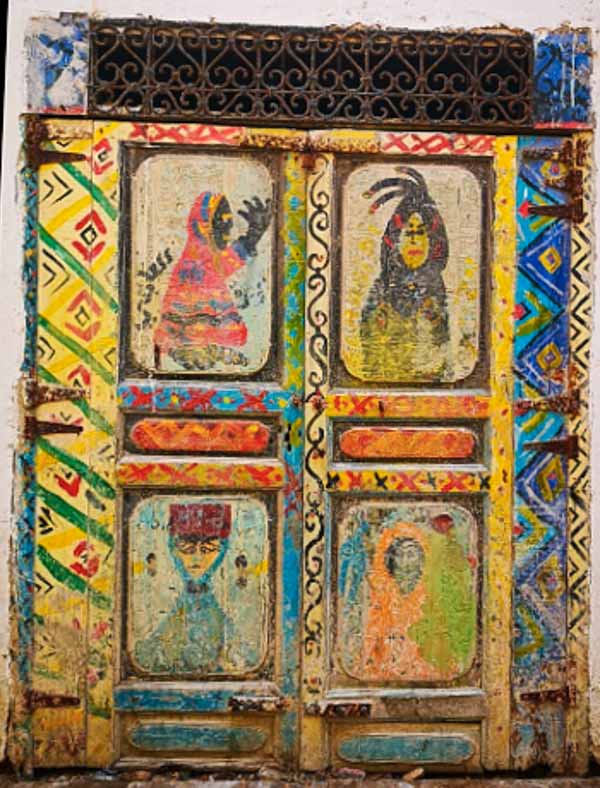 The galleries in Essaouira display exhibitions of both foreign and local artists from Morocco. We were in awe of these art pieces and wished we could have bought some. Unfortunately, what we liked was too big and difficult to ship overseas.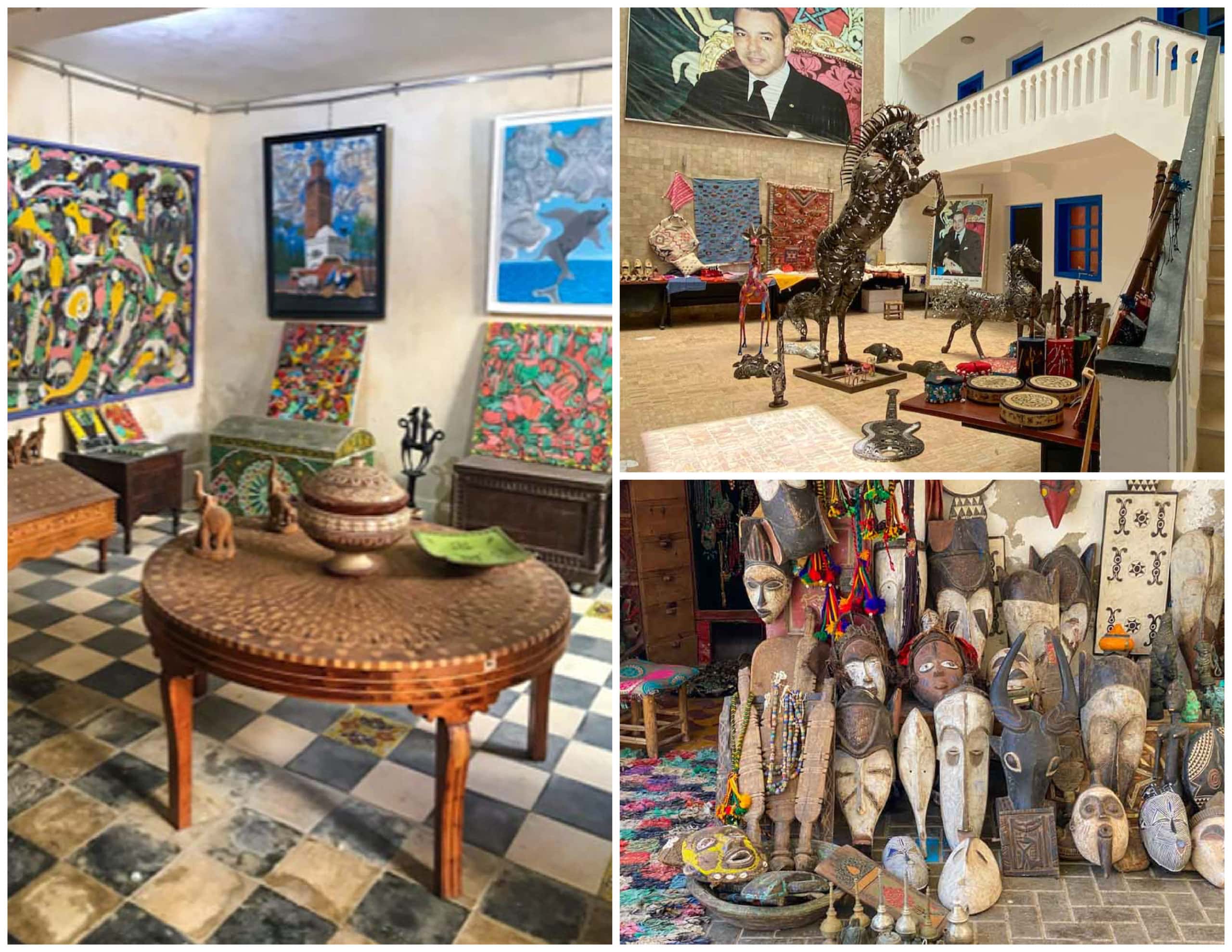 Le Souk
After wandering the streets of the Medina, head to Le Souk (Essaouira's bazaars) to barter for jewelry, rugs, pottery, and other tempting crafts take home from Morocco. The small and compact area of the Souk is easy to navigate, so you won't have to worry about getting lost in it.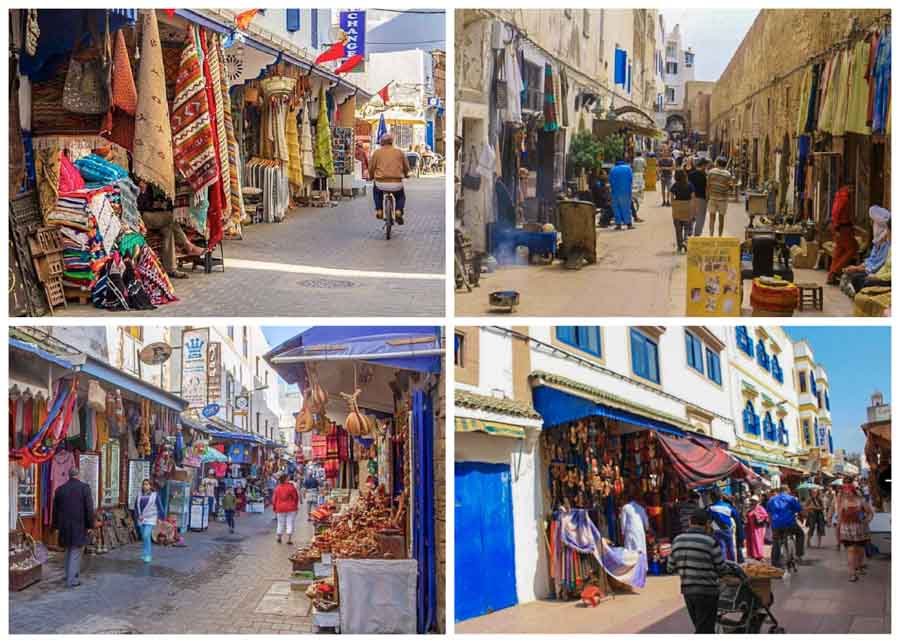 Jewish Quarter (Mella)
Mogador (today's Essaouira) was once home to a very important community of Jewish merchants. They were famous for promoting the trans-Saharan caravan trade, so the King of Morocco encouraged them to settle here. At one point almost 40% of Essaouira's population was Jewish, living either in the Mellah (Jewish quarter) or the Kasbah (the citadel).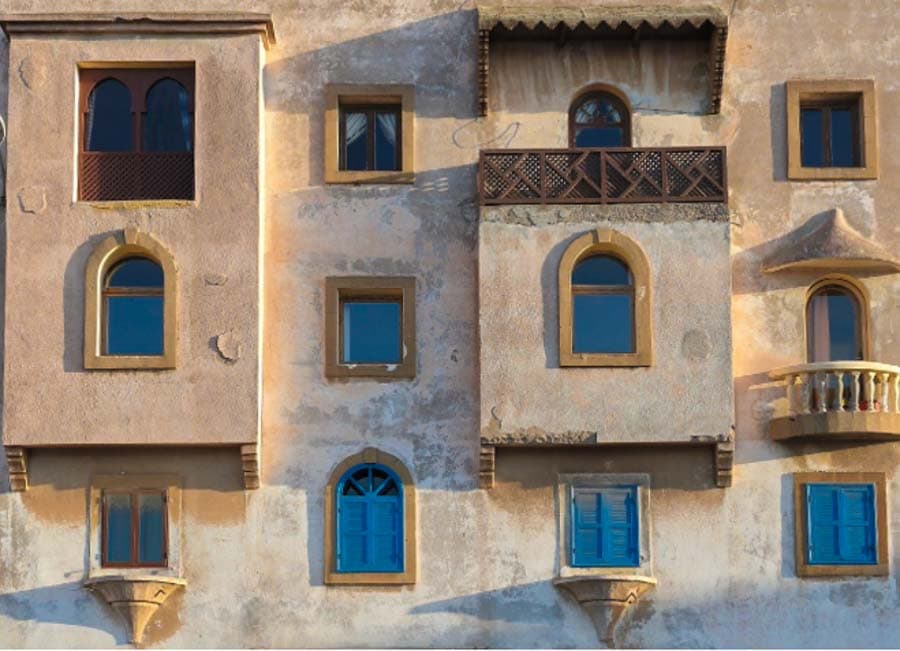 Changes in trade and the founding of the state of Israel in 1948 determined the Jews to leave Morocco. Today there are only a few Jewish families left in Essaouira.
Jewish Museum & Simon Attias Synagogue
If you are interested in the importance of Jewish history and their coexistence with Muslims in Morocco, don't miss this small, but interesting museum in Essaouira. This place is a vivid reminder that people can live in peace and harmony even when they don't share the same religious or political beliefs.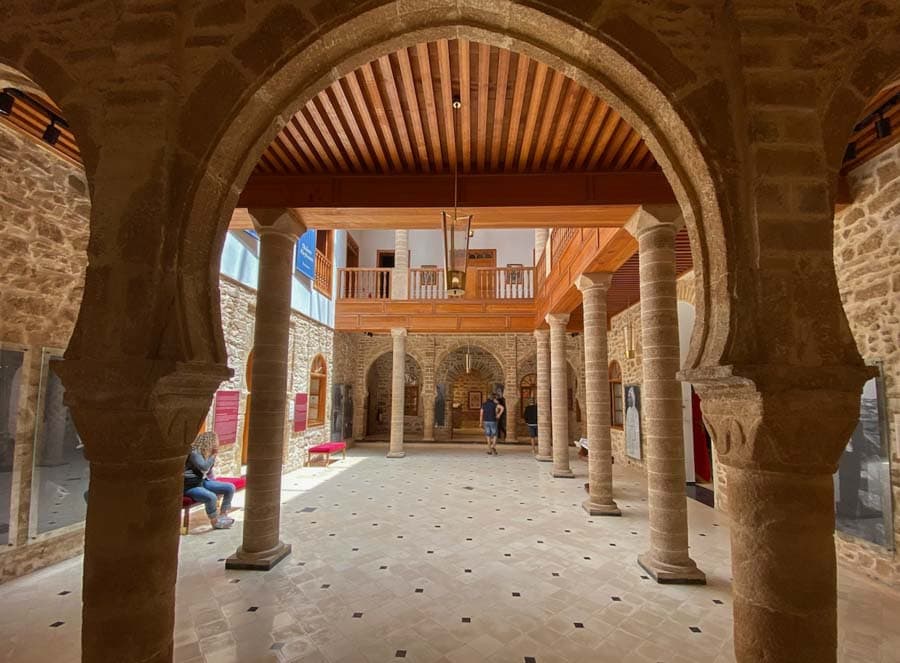 Besides the museum, which has a beautiful collection of pictures, books, stories and artifacts, you can also visit the tiny Simon Attias synagogue, which is a gem in itself. Unfortunately all the explanations are in French, but the museum is free and well worth a visit.
Old Jewish Cemetery of Mogador
This is a historic relic well worth a short visit if you have the time. The Old Jewish Cemetery is located outside the wall of the Medina. Since there are no Jews left in Essaouira and very few visitors show interest in visiting this site, the cemetery gate is closed most of the time. However, if you want to gain access to the graveyard, there is a contact phone number just above the entrance.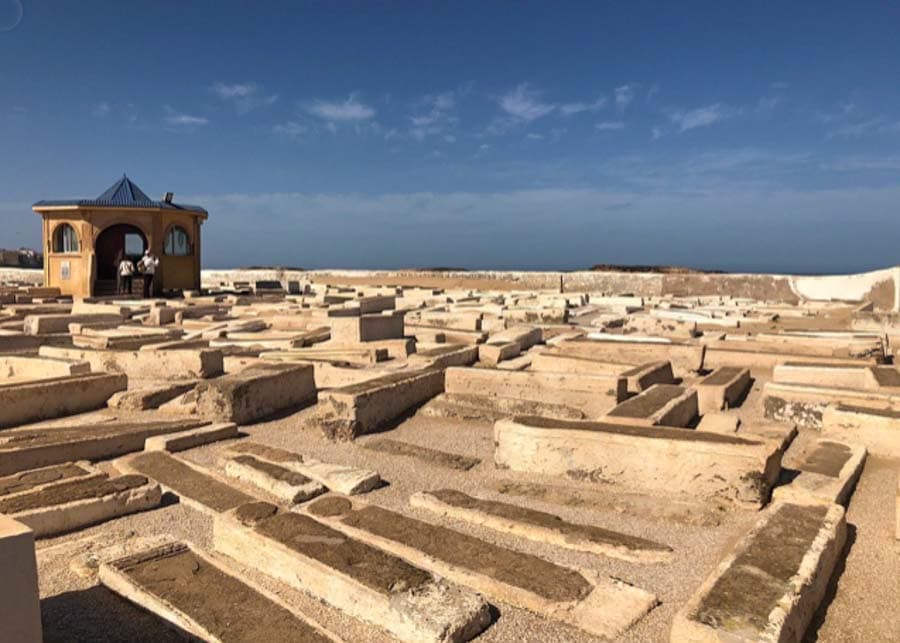 The Old Jewish Cemetery is not a tourist site, but rather a piece of history of Morocco and its tolerance for all religions. In the middle of the cemetery there is a blue and white Mausoleum for Rabbi Haim Pinto.
Mulay el Hassan Square
Moulay Hassan Square is Essaouira's the most lively and vibrant square. Formerly known as Place du Chayla, the square now bears the name of the current crown prince of Morocco. Located between the port and the entrance to the Medina, the square offers scenic view of the ocean as well as a number of cafés and restaurants.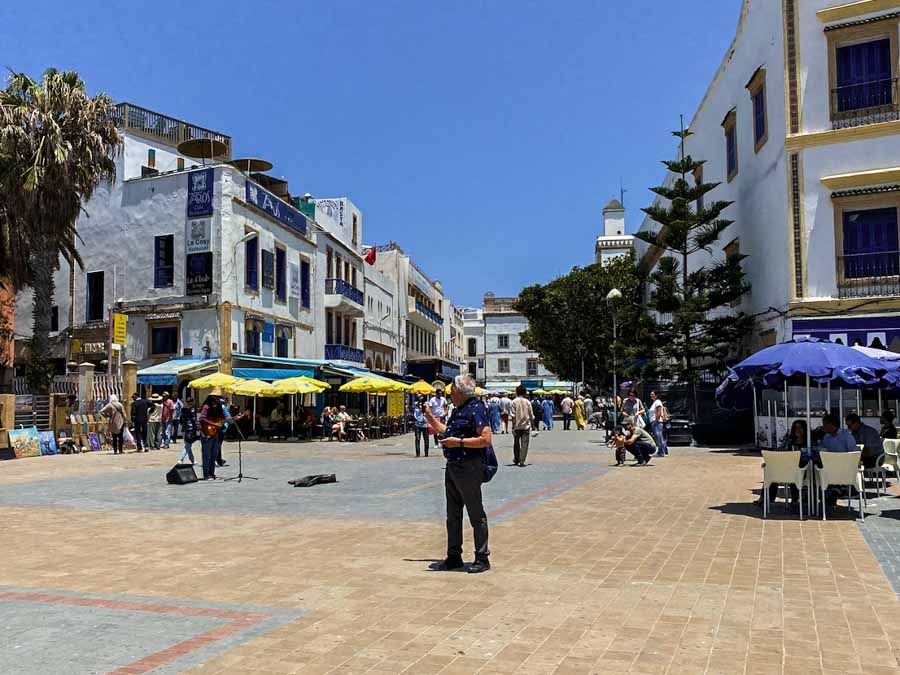 All around the square, you can see children playing, musicians performing, seagulls flying, and tourists photographing. There is a parking lot nearby and the square is completely pedestrian.
Visit an Argan Oil Cooperative
One of the most interesting things to do in Essaouira is visit an Argan oil cooperative where you can witness how the famous products that are so important to Morocco are made. Most Argan oil is produced by local cooperatives of Berber women around the cities of Agadir and Essaouira, where the Argan tree is common. 
It's very interesting to watch these women use ancient tools to hand press oil from the kernels and complete the elaborate process of creating Argan cream. You can also buy some of these products in their store.
Try the Local Food
Essaouira is full of street food stands, cafés, and restaurants, all selling delicious Moroccan dishes and seafood. Since we were in Essaouira for only a short trip, we only had the chance to eat here once before returning to Marrakech. But some of the best sea food we ever tried was here, in Essaouira.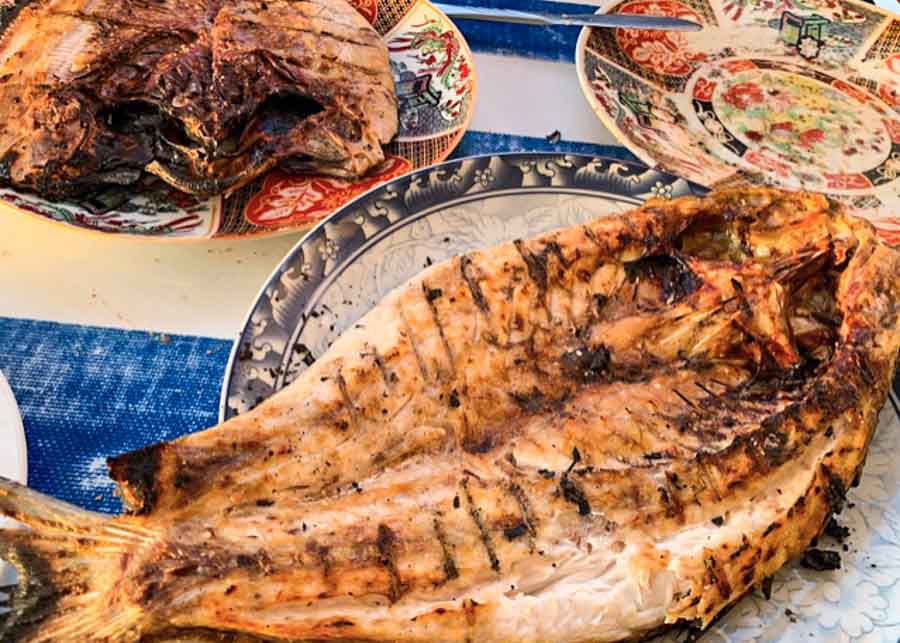 How Much Time Do You Need in Essaouira
We only spent one day in Essaouira, but I wish we had more time in this picturesque town. A day trip seemed too fast paced and we missed out on the beaches. Considering that the trip from Marrakech to Essaouira takes almost 3 hours, I suggest spending at least two days here if you want to enjoy the sights at a relaxed pace.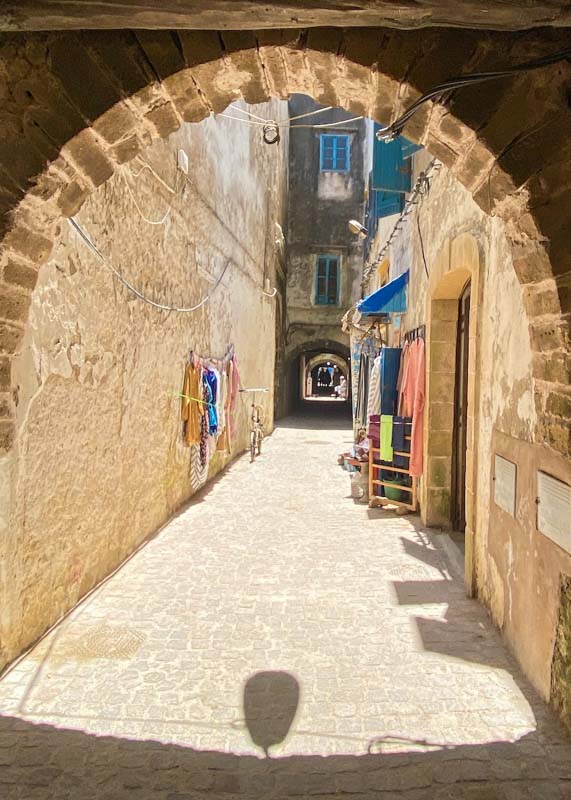 Having said this, Essaouira is a small place so if you simply plan to visit the Medina and enjoy the coastal fortifications, a full day is sufficient.
READ NEXT: The Magic of Chefchaouen, Morocco's Blue City